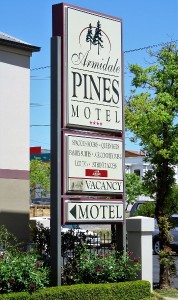 Located in the centre of town, the Armidale Pines Motel offers spacious accommodation with quality furnishings. The motel has 19 large units with kitchenettes in all rooms. A short walk to restaurants, shopping and the city centre as well as onsite parking in combination with good old fashioned service, makes it the ideal place to stay.
All rooms have reverse cycle air conditioners that keep guests in quiet comfort, no matter whether it's hot and humid, or cold and frosty.  The kitchenettes are well provisioned with a microwave, toaster and kettle and everything you would expect at your finger tips.
Travellers, students and business reps are all catered for with complimentary Wi-Fi and broadband Internet access. Rooms have large, well lit writing desks, a lounge area and dining table to make work or study that little bit less tiresome.
Families are catered for with family suites that can accommodate 4 guests in one large room, or 4 guests in two rooms. Each room has its own air conditioner and LCD TV.
Eating Out
Many fine restaurants and cafes are close at hand, mostly only a couple of minutes walk from your motel accommodation. For those who want convenience, McDonald's, KFC, Red Rooster, Dominos and Subway are located within 150 metres of the property.
Armidale, NSW
Situated on the New England Highway half way between Sydney & Brisbane and about 2 hours drive from the coast at Coffs Harbour. This beautiful country town is known for its educational & cultural qualities. It has four distinct seasons each year with the autumn colours being a stunning annual feature. The majestic architecture within the town centre is carried over through the buildings of the University of New England and private schools such as The Armidale School and New England Girls School.
Book your Armidale Pines Motel accommodation online or call 02 67720625 for the best deal!